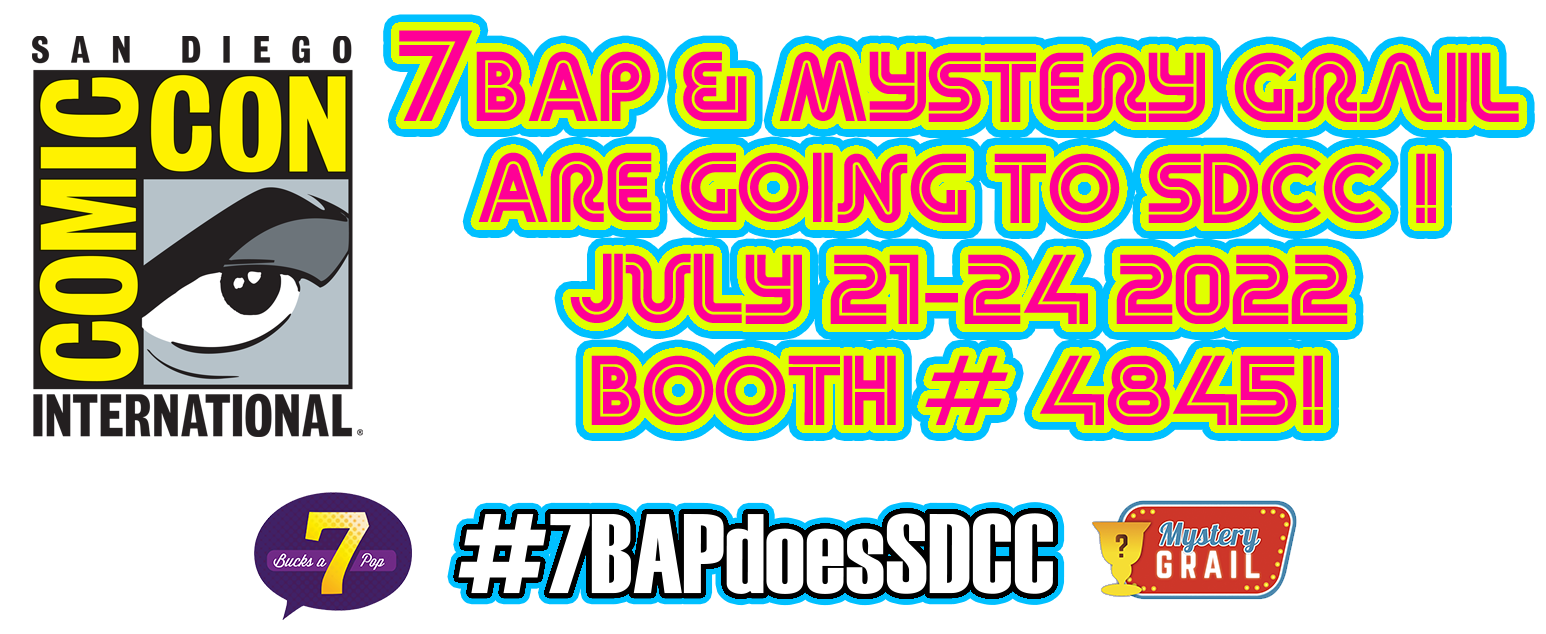 That's right: We'll be making our FIRST EVER appearance at San Diego Comic-Con!!!
We couldn't be more excited, and we're pulling out all the stops for this show. Our booth is #4845 right next to Funko!
Keep an eye on this page as we have many glorious announcements to make in the coming days for our lead-up to the show. We'll have exclusive autograph signings at our booth, special product exclusives, and even 7BAP Signature Series Pops that will only be available at our booth!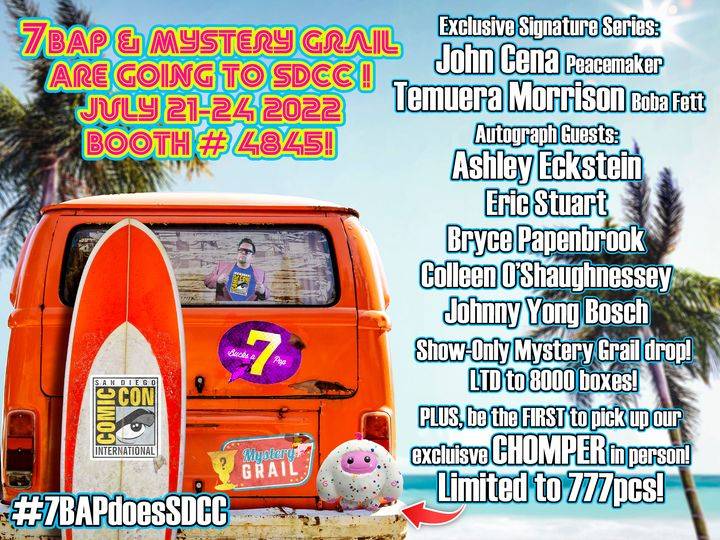 Here's the news that #7BAP #SDCC attendees have been waiting for!
Schedule and prices subject to change. Standard autographs are prints and small stuff, premiums are Pops and large stuff. The Pops listed are the ones we'll have for sale at the booth:
Bryce Papenbrook
Thurs 10am-6pm
Standard Auto: $50
Premium Auto: $70
Signed Inosuke Flocked Pop: $120
Signed Inosuke Flocked Chase Pop: $220
Colleen O'Shaughnessey
Thurs 1pm-8pm,
Fri 10am-7pm,
Sat 10am-1pm
Standard Auto: $50
Premium Auto: $60
Signed Cho Cho Pop: $90
Eric Stuart
Fri 3pm-7pm,
Sat 4pm-7pm,
Sun 10am-5pm
Standard Auto: $60
Premium Auto: $60
Signed Squirtle Pop: $100
Johnny Yong Bosch
Sat 10am-7pm
Standard Auto: $60
Premium Auto: $60
Signed Ichigo Pop: $110
Signed Sabo Pop: $110
Signed Giyu Pop: $110
Ashley Eckstein
Sat 1pm-4pm
Standard Auto: $120
Premium Auto: $120
Signed Ahsoka Pop: $175
Due to unforeseen circumstances, Abby Trott will not be able to attend SDCC. We are bummed, but we hope to have her appear with us very soon!
See you at SDCC Booth #4845!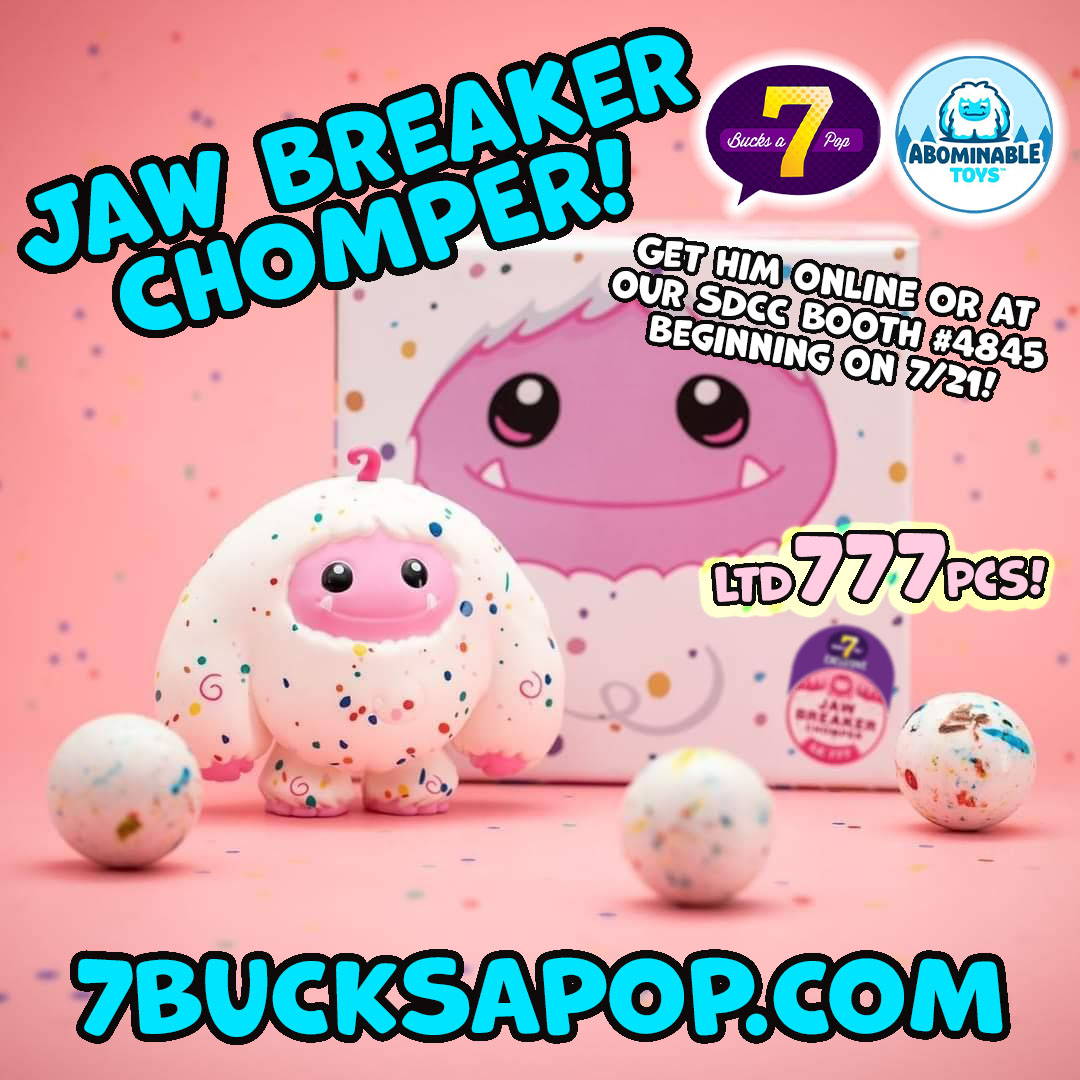 While you're at SDCC, be the FIRST to pick up our exclusive Jaw Breaker Chomper from Abominable Toys beginning on Thursday July 21st! These will be made available at the show and online at 7bucksapop.com at Noon eastern! That means you don't have to be at the show to get your hands on this little adorable fella. Jaw Breaker Chomper will be $25 plus shipping!
We are incredibly excited for our first Chomper exclusive! We might be biased, but we think this is one of the best pieces of work Connor McConnell has made so far- you guys are gonna love it! It's a limited edition and we think they'll sell out quickly.
We will have Chomper PopShield protectors available as both add-ons and stand alone purchases!
Plus, if you're around Saturday 7/23 at SDCC, be sure to stop by and say hello to Abominable Toys co-creator Benjamin Su! He will be signing Jaw Breaker Chompers from 10am to 11am on Saturday!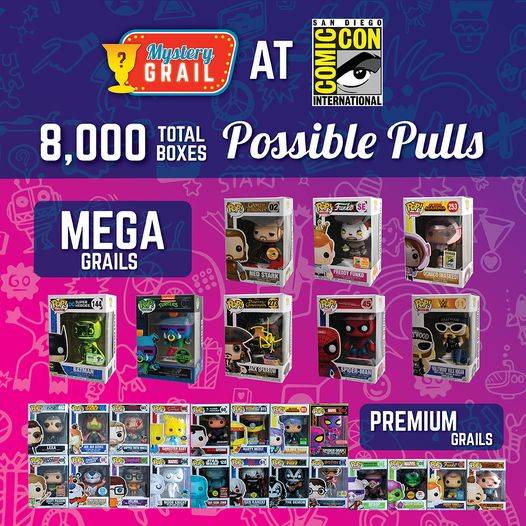 If you're heading to San Diego Comic Con this week, be sure to stop by booth #4845 and pick up an exclusive Mystery Grail box! We have a special show-only drop planned for SDCC with EIGHT Mega Grails, TWENTY Premium Grails and 200+ additional Grails. There will be a total of 8000 boxes to be sold over the 5 days of SDCC, with a certain amount being allotted for each day. Each box will be $15 each and once they're gone, they're gone!